Cooma NSW
Capital of the Snowy Mountains
Hub of the Monaro and High Country
Northern Gateway to the NSW Ski Fields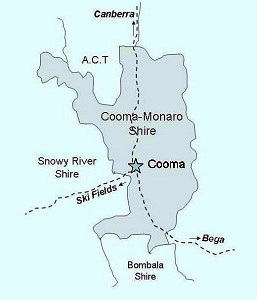 Cooma is a moderate sized rural town of around 6,300 inhabitants, and is the hub of the rural-based plain known as the Monaro, on the escarpment between the far south coast of NSW and the Snowy Mountains, and one of the finest Merino sheep and wool, Angus cattle and Hereford cattle production areas in Australia.
It is roughly equi-distant from coastal beaches, the NSW skifields and Canberra, little more than an hour from each by road, and lies at the junction of the excellent highways to/from these attractions.
Cooma is the administrative centre of the Cooma-Monaro Shire, population around 10,000, which extends from the southern border of the nation's capital in the north and the coastal escarpment in the east, to the Bombala and Snowy River shires in the south and west respectively. The shire's other townships are the villages of Bredbo, Jerangle, Michelago, Nimmitabel and Numeralla.
It is also the main commercial and rural supplies centre for the Cooma-Monaro Shire and parts of the Bombala Shire and Snowy River Shire communities, particularly Adaminaby, Berridale and Dalgety, and the headquarters of the magnificent Snowy Mountains Hydro-Electric Scheme.
Please use this website as your gateway to the many attractions of visiting, or living in, our wonderful region.